Introduction – What is it and how do I prepare?
Made-​to-measure means that a garment has been altered on an existing pattern to a unique customer/body measurement. The process of taking the measurement is defined by trying on a master garment which sets the benchmark for what alteration is needed. The alterations are then converted into a personal, unique pattern/size, which later is used when the fabric is being cut and the garment is produced. This is the main difference between MTM and bespoke, wherein bespoke your body is measured with a tape measure to create the pattern.
A satisfying component of having a garment customised is the involvement of picking and choosing the details that make it your personal garment. In term of construction and design, there are several options within each specific element, which ultimately determines how the garment will turn out. We, therefore, encourage you to conduct a little research before the first fitting. The main questions that need to be answered are where/when will this garment be used and which attributes do you want the garment to have?
Naturally, Max and Gabriel are always here to guide you and help explain it all, and if you are not interested in choosing everything they will even choose for you, or at least make it very easy to only choose things of absolute most relevance.
The main stages in your MTM experience begin with a first fitting, where we'll make the fabric choice, conduct the measurement process and, finally, decide the construction and design options. Your unique pattern is then sent to production and when the garment is completed, we'll conduct a final fitting to make sure that everything is perfect and made to your satisfaction.
In order to better prepare yourself for what decisions you might have to take and what effect they will have on your garment, we have prepared this guide. We have selected some of the most important elements of an MTM garment that is good to be aware of in order for you to have a more rewarding experience.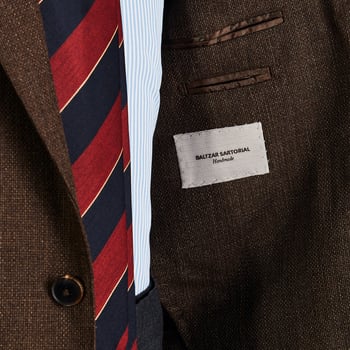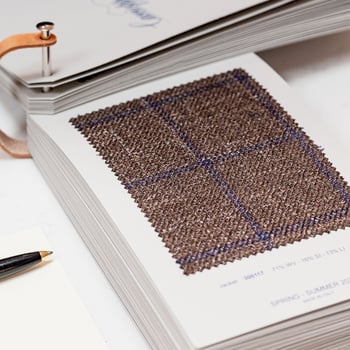 BALTZAR SARTORIAL MTM ASSORTMENT
In our assortment, we offer both formal and casual wear to be customised. Everything from comfortable and relaxed popover shirts and chinos to tailored business suits and extravagant evening wear for celebrations.
Below you see a compilation of the categories available in our assortment of Made-to-Measure garments.
The first step, and perhaps the most fun, is to pick the fabric of your customised garment. We offer fabrics from several of the finest weavers and merchants in the world including Loro Piana, Caccioppolli, Dugdale & Bros, Hardy Minnis and Holland & Sherry. Naturally, our experts Gabriel and Max will help and guide you in your choice, however, there are a few general things to keep in mind when selecting fabrics.
Wearing
How is your garment going to be used, will it be exposed to un-​easy caring and a lot of travelling, or perhaps you want something to get noticed by on a public event? Choose a fabric with the right characteristics for your need.
Weight
There is a major difference in how a garment feels and its performance depending on the weight of the fabric it's made of. Heavyweight fabrics are less flimsy and will drape more naturally, which is a good thing for anyone who is sensitive to wrinkles. Lightweight fabrics are, of course, less warm and often feel more comfortable. Ultimately, the weight of the fabric will be determined by which season the garment will be worn the most.
Quality
When it comes to wool fabrics it is common to find "super" followed by a number as a description of its quality. This is simply a factor regarding the density of threads. The higher the "super" number the higher thread count per square cm. This, therefore, results in the fabric becoming more expensive, softer to touch and more sensitive to wearing out quickly. In short, a Super 150s wool fabric is finer and has a more distinctive shine than a Super 110s, but it wears out faster. 
Composition
There are definitely rules to consider when it comes to a fabric's composition. Linen is made for the warmer months and wool flannel for the colder ones. Wool and cotton are lightweight in summer and heavy in winter. However, fabrics that are made from a mixture of fibres, eg a wool-silk-linen fabric, are a great way to achieve certain characteristics in a garment without limiting its use to a certain season.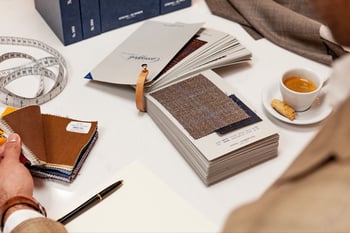 The measuring process is about finding the perfect fit. We'll start with you trying out the best possible size from a master garment and from that we create your personal size. The perfect fit is always determined by the shape of your body, where the aim is to create an even balance between your upper body and legs.
All of these measurements will be addressed and adjusted accordingly together with our experts Gabriel or Max with the aim to create a customised garment, which not only looks good but also fits you well and wears effortlessly.
For example, the rise of your pair of trousers is determined by how high your hips are, which also plays a major part in how comfortable they will be. Another example, when it comes to your blazer there is a difference in how a perfect fit looks and how it feels, which is determined by the relationship between your shoulder width and waist circumference.
All changes and adjustments made during the measurement process lay the foundation for your unique fit profile. This profile is saved in our system and can later be used for future commissions.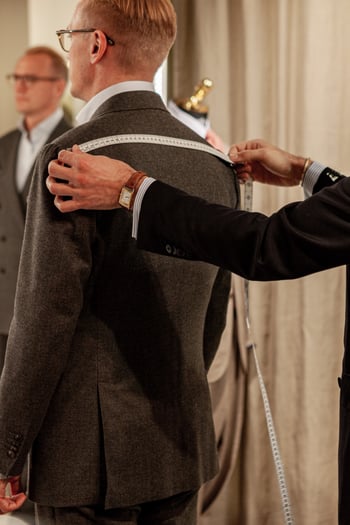 CONSTRUCTION & DESIGN OPTIONS
The construction is the least visible choice for the untrained eye, however, it is for most wearers the most notable difference when of high-​quality. All Baltzar Sartorial MTM jackets and blazers are made in a full floating canvas construction. This means that there is a construction of horsehair, instead of a fused interlining.
The canvas will mould as you wear it and help shape the garment as it matures with you. The canvas is sewn together with the outer fabric, allowing the cloth to drape and keep all its natural aspects.
They say that the devil is in the details. The design elements of your garment will very much give your personal touch and make it something you can be proud of and feel part of.
In addition, there are specific design elements, such as pocket style, which will decide the formality of the garment and therefore affect how and where it can be worn. Therefore, it's important that you have a fairly clear picture of how you want to wear the final garment. But don't worry, our experts will make sure to guide you along the whole process.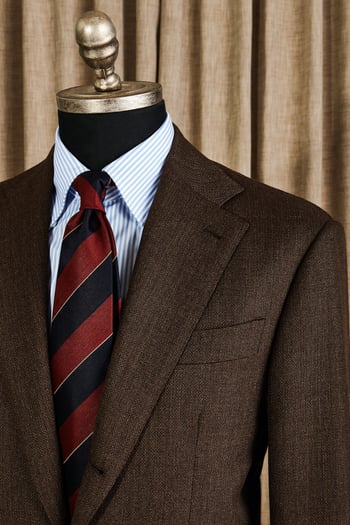 What does it cost?
Below you see a list of starting prices for each category, where it's the fabric of your choice that determine the final price of the customised garment.
Suits – starting at 9495 SEK
Blazers – starting at 6995 SEK
Outerwear – starting at 7995 SEK
Formal Wear – starting at 10795 SEK
Shirts – starting at 1495 SEK
Trousers – starting at 2995 SEK
How long does it take?
All our made-to-measure garments are made by skilled craftsmen with the utmost attention to details and with the highest level of craftsmanship. The production time of our made-to-measure garments is between 4-6 weeks.
The shortest time of 4 weeks represents customised garments that are made with fabrics we have in stock and therefore they go straight into production. The longer time of 6 weeks represents garments that are made of cut-length fabrics, which are fabrics that we first need to be cut and ordered, from one of the many weavers we collaborate with, before it's sent to production.