Shirts
The shirts different looks are defined by its collar, cuffs, and fabric. This is why the shirt is never wrong and always finds a way of fitting in. On the one hand, a formal shirt  is often made of an unwashed plain twill or poplin fabric with a more constructed cut-away collar and might include a pair of French cuffs for formality. The range of casual shirts  is more diverse in terms of color and qualities.
At Baltzar we pride ourselves with a wide assortment of shirts from specialists such as Stenströms, Eton,100 Hands, and Mazzarelli.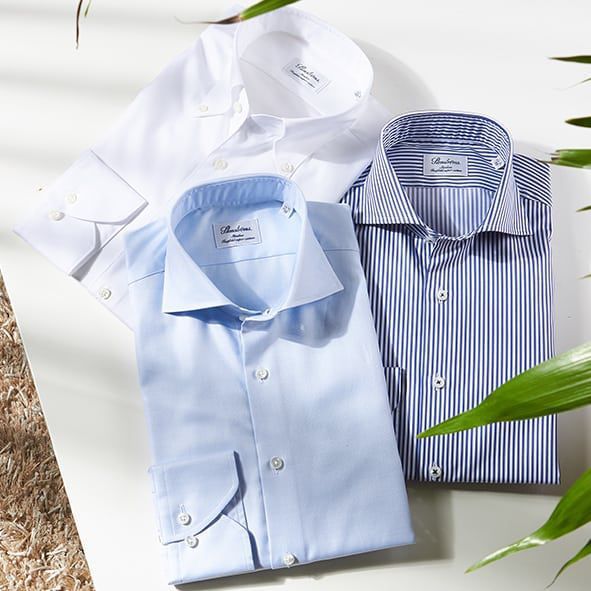 The history of shirts
The dress shirt is perhaps one of the most used items of clothing in a gentleman's wardrobe. Believe it or not, it is also the clothing item that we still continuously wear today that traces the farthest back in history. Throughout the course of history, the shirt has been worn in different ways and with different purposes starting out as an undergarment exclusively for men. In fact, until the 20th century, the shirt was only appropriate to wear as sleeping attire or if covered by other clothing.
Until the20th-centuryy shirts were not manufactured in factories. The well suited man would buy his shirts from the tailor, something that has become more and more common again today. The tailored shirt provides the perfect fit for every individual with the possibility of choosing everything from fabric to collar to buttons and as every skilled shirt maker would say; "the quality is in the details". This service we can offer in one of our stores. 
Ready to wear shirts usually come in different styles to best suit individual taste, body type and comfort. A classic fit is more casual and for the person that wants more room and a longer tail to ensure that the shirt does not come untucked during the day. Slimmer fits ranging from slim to extra slim provides a more nipped in waist, a defined silhouette and slimmer arms. These fits tend to fit most men the best.