A Guide to Essential Belts
The Belt – one of the most important accessories, with plenty of do's and don'ts involved.  When confronted with a wide belt selection, each with unique features and styles, it can be daunting even for an experienced gentleman to make a confident choice.  Which belt to wear with which trousers? How should the shoes be factored in? Should it blend in or stand out? These may be some of the questions which might run through our mind when dressing.  To top it off there is also the occasion for which the attire will be worn to be considered. Challenging, indeed, to say the least.
To help out and provide some sort of guidance Baltzar has launched a guide to essential belts. We will start from the brief perspective of history, and then reflect on and present five belts that are the cornerstones of a man's wardrobe.
Documented as far back as the bronze age, the belt has been associated with male clothing with even the most primitive early examples showing evidence of being more than purely about practical function.  Marked with stones and trophies, the belt was early on used to reflect status. It also helped in the early stages of uniforms to shape and reinforce the masculine silhouette by highlighting the waistline, giving the impression of broad shoulders and great physique.  Alongside these aesthetic and vain attributes, the main purpose of the belt has always been to hold up the trousers, as well as in different époques to carry equipment.
Whenever the belt was first introduced, it was later on with the addition of trouser belt loops in the early 20th century, that it started really to find its core position in the wardrobe, replacing braces as a way to hold up trousers.
Today, belts are not only used to avoid the ghastly embarrassment of revealing one's underwear, if worn, but also for style and as a fashion statement.  After all, a belt, almost as much as a pair of shoes, can reveal a lot about who we are.
Historic Recap:
Evidence of belts worn as early as B

ronze Age

Worn to enhance physical appearance

Used as a tool to convey status

Replaces suspenders in early 20th century

Grew significantly with introduction of belt loops

Still today used to carry gear; Baltzar condemns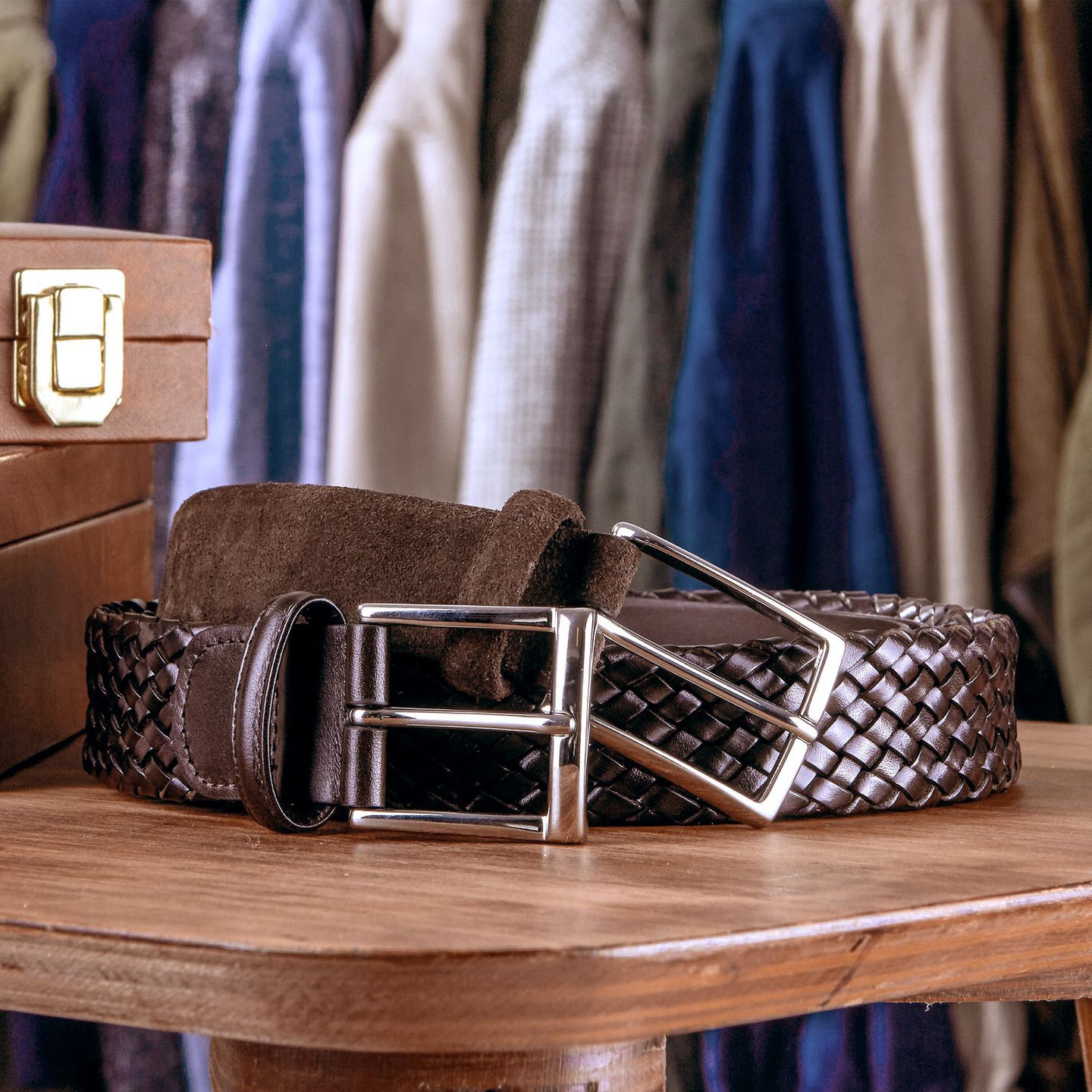 How to care, store and size a belt
Like everything in life, and moreover, most garments and shoes, love and care help belts to last longer. Allow them to rest between wearings. It's preferable to wear each belt at most every other day, allowing it to air-dry and regain its strength and shape on its own.
When it comes to storage, the recommendation is to coil the belt loosely and to lie it on a flat surface such as a wardrobe shelf or tabletop. Importantly, the surroundings should not be too wet or dry or too hot or cold. If a belt gets wet, do not accelerate the drying process; allow the belt to dry naturally on its own. A belt should never be halved and hung over the crossbar of a clothing hanger. Finally, it is important occasionally to feed a belt with shoe cream and metal buckles should be polished.
When it comes to size, your belt should be two sizes larger than your trouser waist measurement. For example, a man who wears a 32" waist trouser should purchase a 34" belt (85cm). Most belts tend to have five buckle-hole options; the objective should be for the belt to fit when the buckle is fastened in the third or middle hole. As weight might vary, the hole on either side of the middle hole can be chosen. If the outermost hole starts to be used then that may be the signal to revise one's fitness regime or food and drink intake.
When ordering belts online, the best way to get the size right is to check a belt already in the wardrobe. Measure from the end of the buckle to the hole usually used, regardless wether it's the middle hole. Apply the length when buying your new belt which will then end up being fastened in the middle hole as supposed to.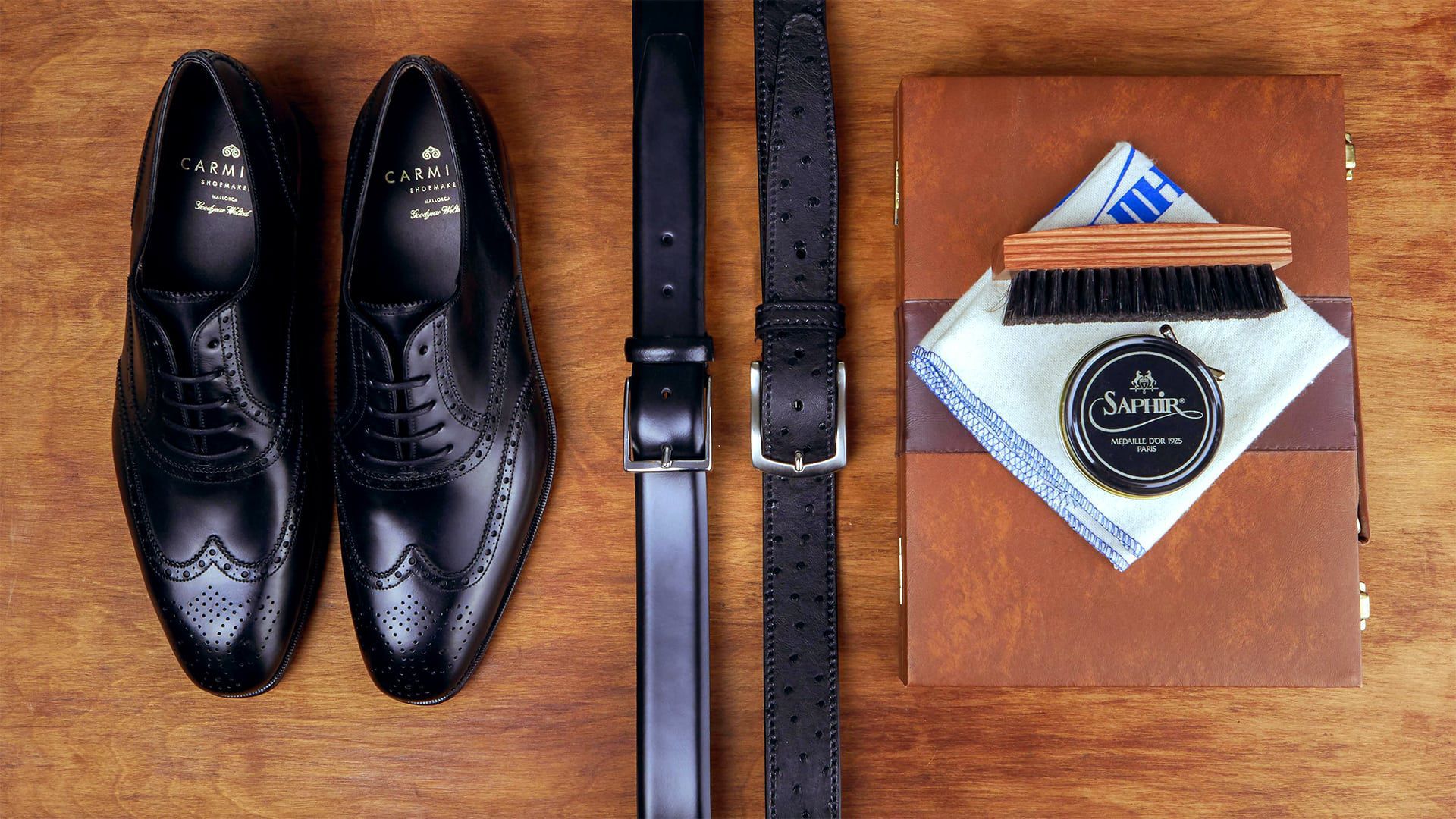 Baltzar's Five Belts
Having established the provenance of belts. It is time to reveal Baltzar's top five choices. Five belts that should spare you from any potential style-related embarrassment. Hopefully also on some occasions enable you to stand out as an ambassador of men's style and elegance.
1. Black Calf Leather Belt
The first and arguably the most important belt in a wardrobe is the black calf leather belt. Why? Simple; if you have a pair of good shoes in your wardrobe they should be black calf leather oxfords and this is the belt to go with them.  It's a classic elegant belt that won't let you down at the office or when dressed up to visit the opera, assuming you're not wearing your tux. The belt is preferably paired with suits from Canali and black Oxford shoes from Carmina.
Baltzar suggests: Anderson's black calf leather belt
Exotic alternative: Canali's black crocodile belt
2. Chocolate Suede Belt
The second belt addition is the chocolate brown suede belt.  Dark brown and no fuss. This belt can be used both formally with a suit but definitely also works well with a more casual way of dressing in jeans and chinos. The notion that this belt may only be worn together with brown suede shoes is too restrictive: it can work with most brown shoes, even sneakers, which may carry the same material or have details in brown.  It's also the first choice for a pair of dark brown loafers.
Baltzar suggests: Anderson's chocolate suede belt

3. Brown Braided Leather Belt
The third addition to a wardrobe is the casual belt.  Baltzar's top choice is the braided belt, a casual and practical belt, predominantly used in summer and for many people when travelling and on vacation. The way it allows you to close the belt in whatever braid your find comfortable (no cut holes) makes it the ideal choice for when weight is fluctuating. This belt helps to capture casual elegance with confidence and is a strong look with chinos from Pantaloni Torino or Mason's, and even a solid candidate for a jeans belt. If dressed more in jeans, see the alternative belt.
Baltzar suggests: Anderson's brown braided leather belt
Alternative: Anderson's brown saddle leather belt
4. Chestnut Calf Leather Belt
Fourth and not last is the belt which you might have thought was the obvious number two: the formal brown calf leather belt. Although we are encouraged to explore the possibilities of a dark brown suede belt even with leather shoes, when speaking of essentials, the calf leather is a no-brainer. There are very few occasions when a dark brown calf leather belt doesn't work, except of course when you are wearing black oxfords. Please! From a nuance perspective select a brown belt with some richness of colouring which enables easier matching possibilities.
Baltzar suggests: Anderson's chestnut calf leather belt
Exotic alternative: Canali's dark brown crocodile belt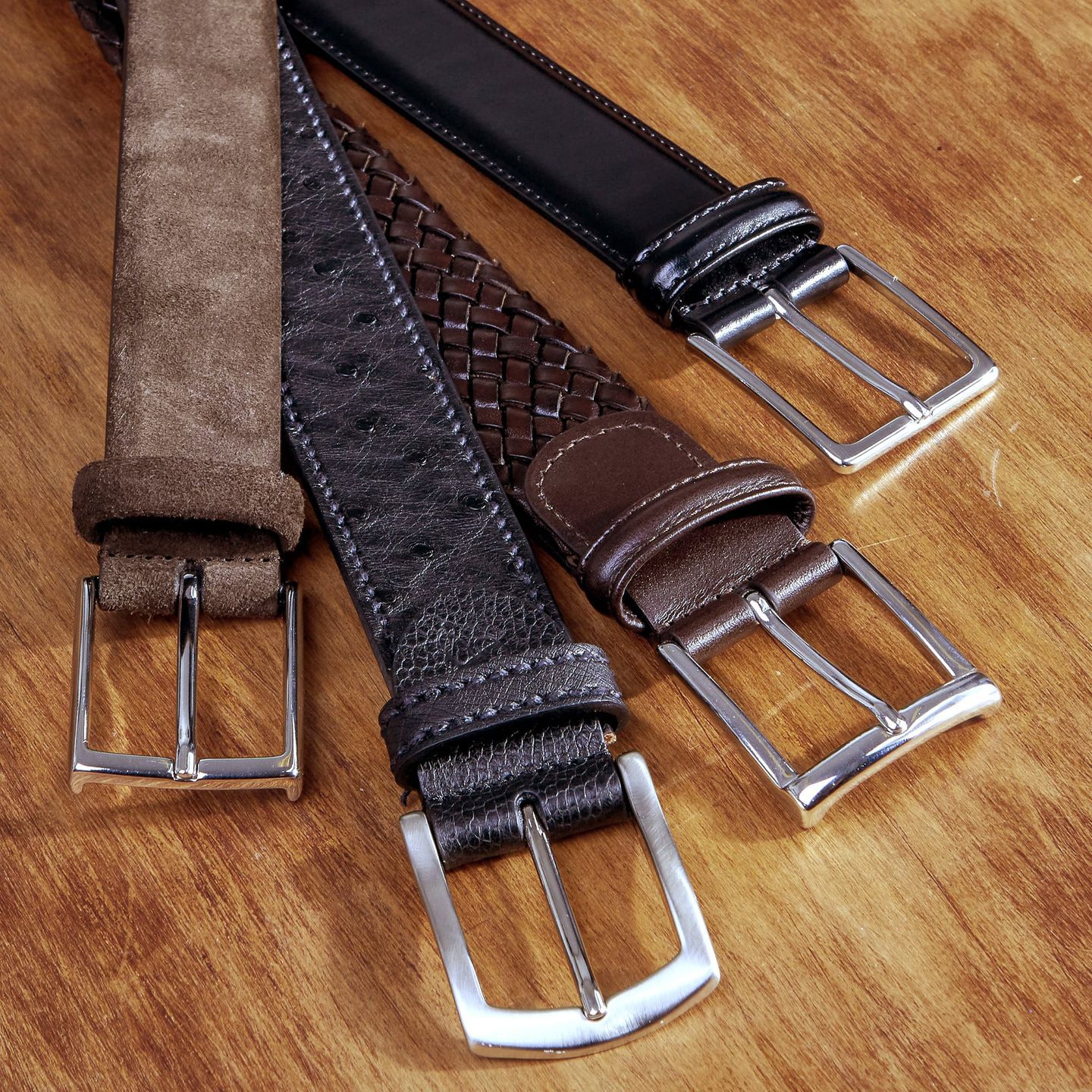 5. Black Ostrich Belt
Lastly, the fifth essential belt is one that is a non-specific recommendation. The four above belts cover the basics. Apart from ensuring that we never fall short and get caught with our trousers down, the fifth belt encourages the meticulous style fanatic gene we may all have from time to time, finding the specific detail to make everything perfect.  It could be that detail which makes us move from good to great: the particular taupe suede with dark brown trimmings matching the sneakers and the watch bracelet, or the ostrich belt to match the wife's new handbag… go nuts and get it right!
Baltzar suggests: Black ostrich belt

These are the five essential belts that give a man's wardrobe a suitable foundation; whether it's simply to keep your trousers up, or accentuate your waistline or hold your gadgets in place, which is strongly discouraged from a style point of view, these are in our view a good starting point with both elegant and stylish options. That said, braces are a completely different story! While 'belts and braces' is a great phrase, it should not be taken to sanction the wearing of both accessories at the same time! But this leads us on to a completely different story which will be told on a different occasion.
Yours sincerely,
Baltzar
Order your belts now to achieve a higher standard in your wardrobe by clicking on the pictures below!