Fine accessories for gentlemen
When it comes to suspenders, one brand remains the benchmark for the industry the world over. Albert Thurston started out on 27 Panton Street, Haymarket in the early 1820's. There he sold high quality braces to the people of London. His products were widely appreciated and the word spread. Still today, they are made in England by a new generation and forever treasured by their clients worldwide. James Bond, Gordon Gekko, Kings and Presidents have one thing in common. Albert Thurston helps their trousers hang straight.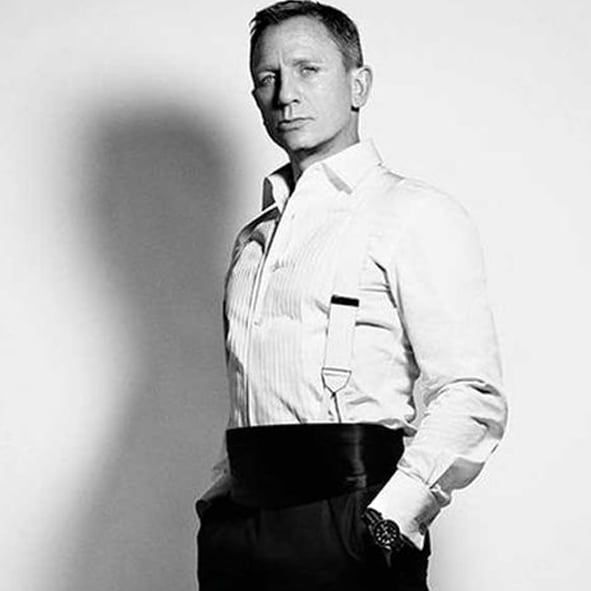 The History of Albert Thurston
Thirty-one years after the brand was first introduced, in 1851 at the Great Exhibition, Britain celebrated the Victorian era. This is where Albert Thurston received an Honourable Mention for excellence. A standard which is ever since intact.
During the twentieth century, Thurston's reputation for quality and style continued to grow. When asked for his reaction to the outbreak of war in 1939, actor Sir Ralph Richardson replied that he had gone straight to his tailor on Savile Row and purchased half a dozen pairs of Thurston braces in case they might be in short supply.
In modern times, Thurston attire has featured in many Hollywood films, including "Leap of Faith" with Steve Martin, "Wall Street" with Michael Douglas and lately "Casino Royal" with Daniel Craig as James Bond.
White James Bond moiré braces
Wall Street Gordon Gekko braces
If you have any concerns regarding the sizing and quality of Albert Thurston braces and suspenders. Do no hesitate to contact us at contact@baltzar.com